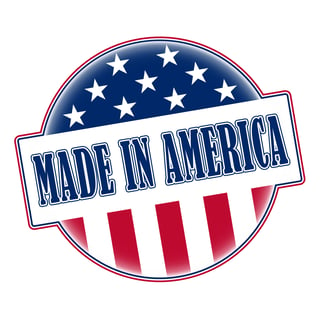 Just because we live in a global economy doesn't mean products aren't made in the USA anymore. Offshoring and overseas manufacturing might have become a popular approach taken by many companies, but there are a variety of issues associated with going that route. Aside from the quality and support issues that often arise, offshoring also shows a lack of commitment to the U.S. workforce.
Bantex, created by Herculite Inc., is proudly Made in the USA. In fact, Bantex is the only mass produced American-made digital graphic banner fabric on the market.
Before continuing, let's define what we mean by American-made or Made in the USA as it is presented by the U.S. Federal Trade Commission:
"Made in USA means that 'all or virtually all' the product has been made in America. That is, all significant parts, processing, and labor that go into the product must be of U.S. origin. Products should not contain any – or should contain only negligible – foreign content."
Bantex complies with the FTC's Made in USA standards. Founded in 1949, Herculite Inc. operates a 300,000-square-foot plant in Emigsville, PA. that uses American-made materials.
The Bantex Advantage: What Makes Bantex the Top Fabric for Digitally-Printed Signs
As the only US-made digital banner fabric supplier, we pride ourselves on the quality of our product. In fact, Bantex offers a variety of advantages:
Stiffness

Microtexture

Width Ranges

No Ink Issues

HP Latex Certification

Defect Free Boxes

Six Month Shelf/Print Life from Purchase
Bantex can be used for one-sided or two-sided outdoor and indoor applications. The specialty fabric also features the following:
Prints on All Solvent, Latex, and UV Curable Digital Ink Jet Printers

Flame Retardant

Offers No Edge Curl for 5 Years - Guaranteed

Offers 100 % Blockout

Offers the Strongest 18 oz. Two-Sided Outdoor Banner Fabric on the Market

Various Sizes and Products

Free Sample Rolls

Photographic print quality

Predictable color clarity

Made in the USA
Remember, not all banner fabrics are created equally. Some may not stand up to the test of time and the rigors of the outdoors. Spending a little more time and money on a quality product saves you in the long run. For that very reason, customers that use Bantex Banner Media love it.
"Bantex, blackback non-curl is one of the best products I've used for roll up banners. It's the only product I've found that works perfectly, DOES NOT curl at all. Took me a year to find a good product and this one is it, for those of you who have been having issues. Wish I knew about it sooner, found this at convention in Washington." - Sean M, Sir Speedy Printing
Customers appreciate the Bantex quality and ultimately that's what keeps them coming back again and again.
Why it's Important to Buy US-Made
So, why is it so important to consider a product that's made in the USA? For starters, it helps keep jobs and dollars local. But, it also means your product is not being shipped on a boat from overseas. You know that the banner fabric you ordered is coming from somewhere in the United States and won't get shipwrecked or delayed at customs, or worse yet, damaged during all that processing.
Economically, supporting Made in the USA products helps create jobs. In fact, one U.S. manufacturing job creates five-to-eight more jobs on American soil, according to www.madeintheusa.com. It's called the economic ripple effect. It's like when you buy a U.S.-made car; your purchase supports the plant that made the car, the jobs that helped design it, and even the sales guy you just negotiated with.
Bantex offers the best banner material on the market for digitally printed signs. Learn more about the Bantex Advantage and why it stands out from the rest of the competition by visiting this page.